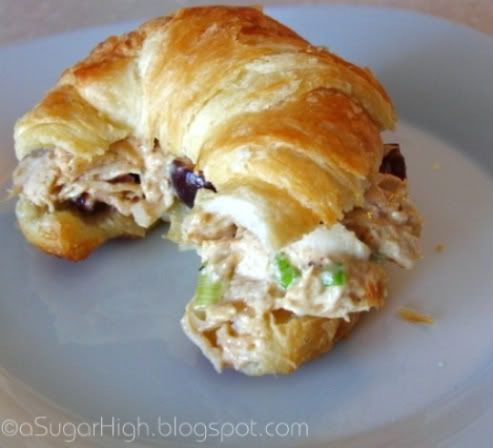 These cold chicken salad croissant sandwiches are the perfect snack for warm weather get-togethers and parties. The salad is healthy and creamy with a slightly sweet flavor, and goes great with bread and crackers. The best thing about this recipe is how versatile it is, you can use a variety of grapes, cranberries, or nuts (walnuts, pecans, almonds..). You can also choose to use mayo instead of Miracle Whip, just be aware that the flavor will be slightly altered. Serve it with bread as a sandwich, as a topping for crackers, wrapped in lettuce, or keep it just the way it is for a side dish.
-Jess
Chicken Salad Croissants
Recipe from
Food.com
2½ cups cooked chicken, diced
1 cup celery, finely chopped
1 cup seedless grapes, halved
1 cup walnuts, chopped (optional)
1 small onion, minced
½ tsp. salt
1 tsp. Worcestershire sauce
½ cup fat free Miracle Whip
Croissants
Combine all the ingredients. Chill for 30 minutes. Serve on croissants, sandwich bread, or with crackers.