I always loved dying eggs for Easter as a kid. I'm 22 now, and I still love it! I even manage to get the Man to join me in egg coloring every year, it gives us a chance to be creative together, gives us time to talk, and we both get some level of joy from seeing our creations. I don't think a person should ever feel 'too old' to do anything, especially dying Easter eggs.
This year I decided to try something different than standard dyes, joining in on a trend I've been seeing growing on food blogs - Natural egg dying. Meaning instead of using chemical colors, you use natural ingredients (veggies, fruits, spices) to get gorgeous eggs.
This is a little more time consuming than the artificial way, but I'm really happy with the way my eggs turned out.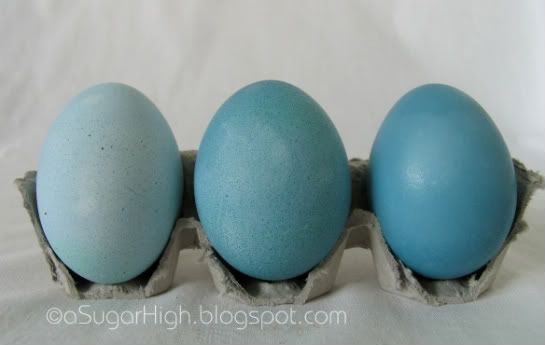 Left to Right - Dyed 1 hour, Dyed 2 hours, Dyed 3 hours
Blue
- Red Cabbage. This is my favorite dye, and seemed to be the quickest-setting. I left the three eggs in the dye for different lengths of time, the longer you leave it in the richer the color will get. The deepest blue is gorgeous, however I LOVE the lightest blue the best.
I noticed that the light blue was the only one to get little dark specs on it. Gorgeous!
Green
- Spinach. I'm not sure if it's because I didn't use enough spinach, didn't boil it long enough, or if spinach dye typically just takes more time, but these seemed to take FOREVER to get to where they are. I finally removed them from the dye after 3 hours, and I am really happy with the shade they became.
Light Brown
- Coffee. I chose brown because it's not a color of egg you usually see for Easter, and 'cause I had plenty of coffee on hand. This was the easiest dye to make, but also took 3 hours to get to the shade shown.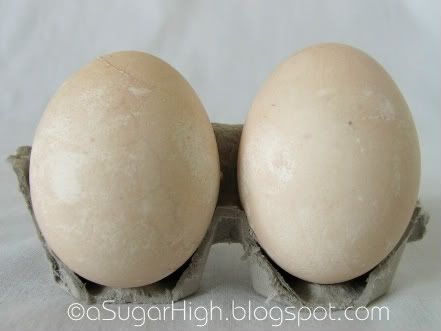 Pink
- Strawberry preserves. Usually beets, or cranberry juice are used to make pink/red. I had neither. I wanted to try something that I haven't seen done, I took a few Tablespoons of strawberry preserves and boiled it with a cup or so of water. Not a very good idea, as it didn't really work that well. The pink is a lot more pale than I would like, but still looks pretty. One thing I did notice, and really like, about this color is that the eggs smell like strawberries! None of the other eggs smell like their color. I like it.
So, there you have it. My first experience dying eggs using natural ingredients. I think it worked really well, and I'll definitely try it again next year using the onion skin method. My favorite thing about these eggs is how uneven some of the color was. The finished eggs had lines, spots, and blotches of uneven color shades which I find even better than a smooth even finish. However, if you prefer a more even shade, you would just boil your eggs in the dye instead of cold dipping them like I did.
I do still plan on coloring eggs the old fashioned way with the Man. It's become a tradition for the two of us, and I want to keep it going. I'll be sure to post pictures. :)
Here are some really helpful sites with great information for dying eggs naturally.