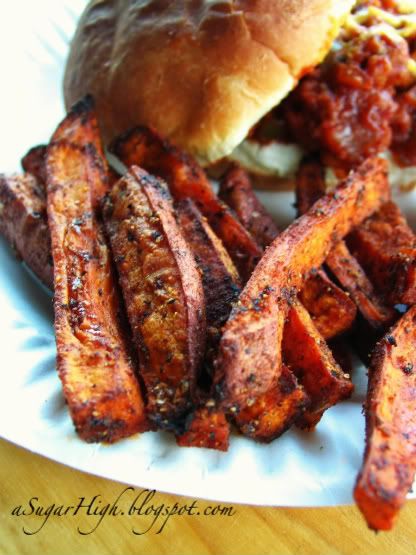 It's no secret that potatoes are my favorite food, and sweet potatoes are one of the best! I love the sweet flavor of them, it's like a dessert in a vegetable. I've been dying to make sweet potato fries, and I came across this recipe for a spicy version. Flavored with chili and smoked paprika, these sweet and spicy fries did not disappoint!
-Jess
Spicy Sweet Potato Fries
Ingredients-
3 large sweet potatoes, peeled and sliced
1 Tbsp. canola oil
1 tsp. chili powder
1 tsp. ground cumin
½ tsp. smoked paprika
1 tsp. packed dark brown sugar
1 tsp. kosher salt
1 tsp. freshly ground black pepper
½ tsp. chipotle powder, or to taste

Directions-
Place the oven rack in the uppermost position and preheat oven to 425° F.

In a small bowl or measuring cup, combine the chili powder, cumin, smoked paprika, brown sugar, kosher salt, black pepper, and chipotle powder. Blend well with a wire whisk or fork.

Place potato slices on a nonstick rimmed baking sheet. Drizzle with the oil and toss to coat. Spread the wedges out in single layer, flat side down. Sprinkle evenly with 1/2 the spice mixture. Turn so that the other flat side is down and sprinkle with the remaining spice mixture.

Roast 30 to 40 minutes, turning once or twice, until the wedges are cooked through and lightly browned.

Enjoy!