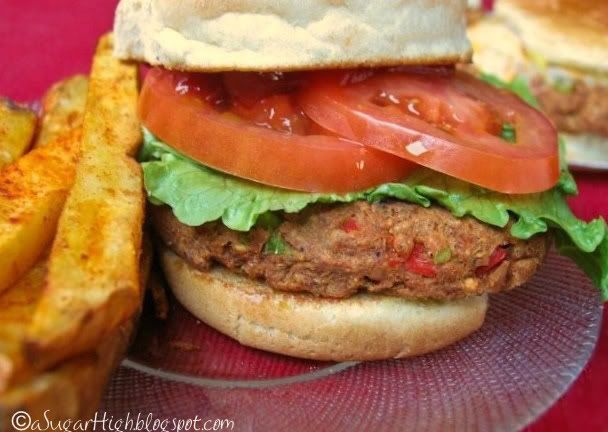 One food I really love to eat is hamburgers. Hamburgers, cheeseburgers, guacamole burgers, bleu cheese burgers, mushroom and swiss... so many toppings, and they're all
so
good. But there's one thing that's always the same.... The burger! Even though I love beef burgers, I'm always on the lookout for a different way to eat them. Not necessarily a healthier way, just different. Whether it be an all veggie burger, a different meat, or even just different seasonings, all I want is
variety
. I came across this recipe and thought it seemed interesting. I've never heard of using tuna for a burger before, but I love tuna sandwiches so I thought
what's the harm?
When it comes to food, I'm always up for trying something new.
I'll be honest, I was a little nervous about trying this one. There's few different flavors coming together in it, and I was afraid of what the finished result would be. It was actually a lot better than I anticipated, and very easy to make. I really liked the texture this burger had. It was fairly moist, with a subtle crunch of the veggies in it, which I didn't really notice too much, but the Man of the house complained and said next time he'd like them chopped up more. What a
whiner
... They were very flavorful, delicious. If I made these again though, I would replace half the seasoned bread crumbs with regular crumbs just to bring out some more of the other flavors. I topped mine with good ole' lettuce, tomato and ketchup served along side sweet potato fries.
Ingredients-
1 can tuna, drained
3/4 cup Italian bread crumbs - I recommend regular, or a combination of both
1/4 cup minced red bell pepper
dash Worcestershire sauce
tomato, sliced and leaves of lettuce (optional)
Directions-
Combine all ingredients (except buns, and toppings) in medium bowl. Mix well and shape into patties. Refrigerate for 30 minutes to make the patties easier to handle, if desired.
Coat a non-stick skillet with cooking spray, or with butter; fry tuna patties for about 3 to 4 minutes per side, or until cooked through. These may be fragile, so be careful when turning them.
Serve on buns with desired toppings

Enjoy!